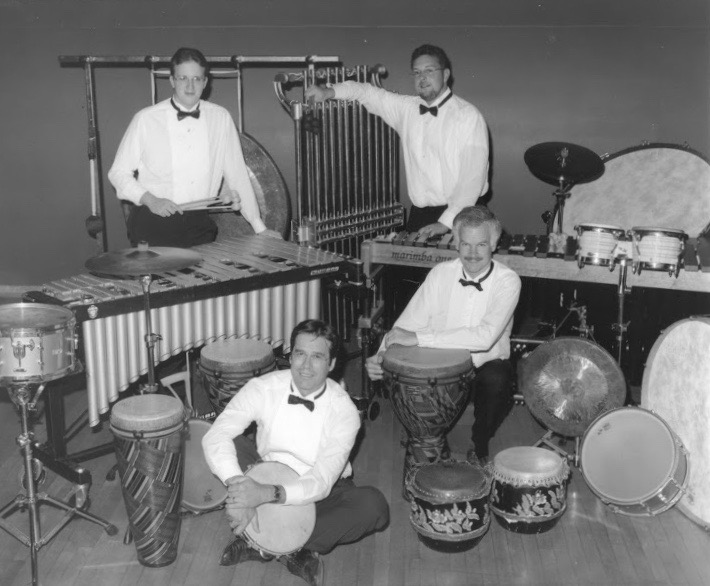 First Promo Photo, Fall 2000; founding members of PercOrchestra included: Chris Barber (top left, 2000-2003), Bradley J. Fuster (top right, 2000-2005), Mark Sullivan (bottom left, 2000-2011) and Jeff Vick (bottom right).
2004 Promo Photo; L-R: Jeff Vick, Bradley J. Fuster, Mark Sullivan, Larry Nielsen (2003-2009)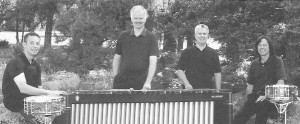 2004 Promo Photo; L-R: Brad Fuster, Jeff Vick, Larry Nielsen, Mark Sullivan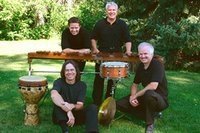 2006 Promo Photo; L-R: Erik Nielsen (2004-2007), Jeff Vick, Larry Nielsen, Mark Sullivan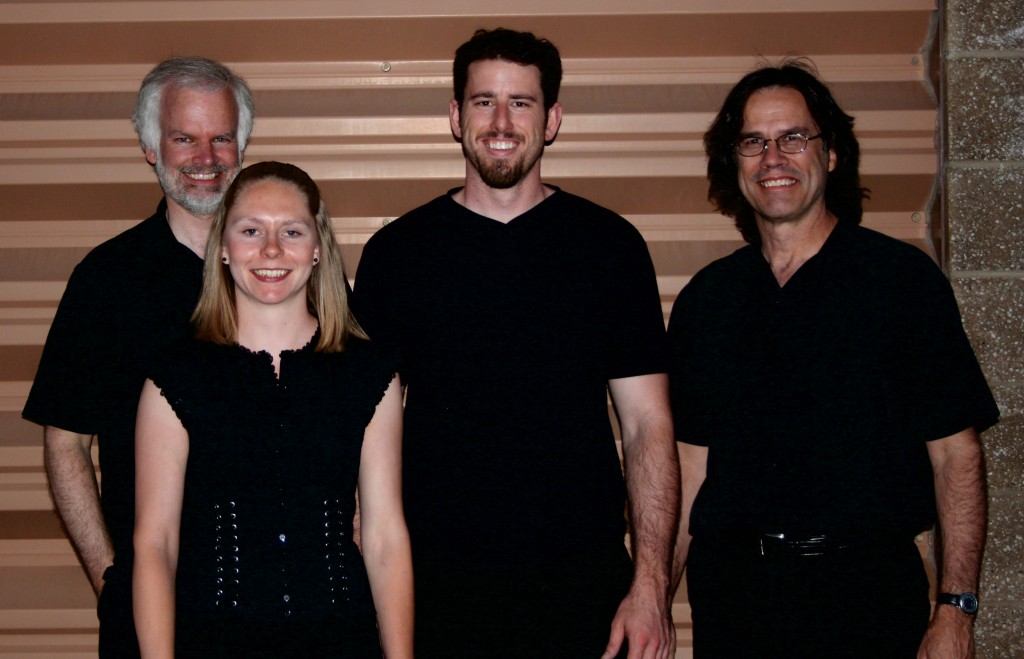 May 2009, West Yellowstone; L-R: Jeff Vick, Lindsay Suta (2009-2010), Stephen Versaevel, Mark Sullivan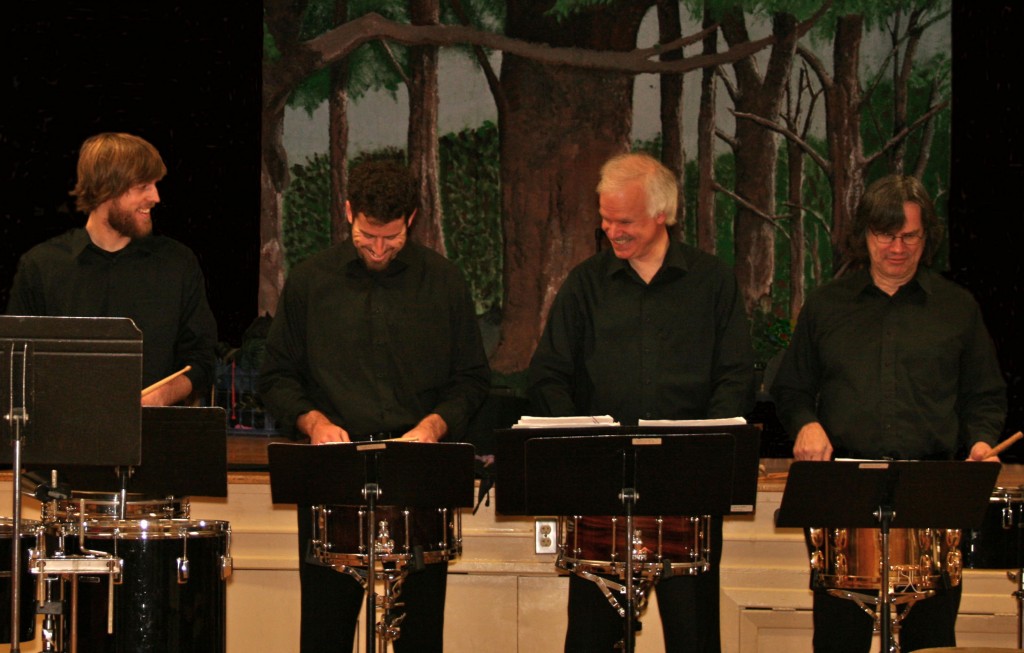 February 15, 2011, Longfellow School; L-R: Mark Brown, Stephen Versaevel, Jeff Vick, Mark Sullivan (2000-2011)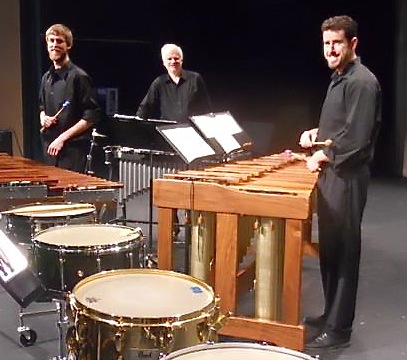 April 12, 2012, Belgrade High School; L-R: Mark Brown, Jeff Vick, Stephen Versaevel
Mark J. Sullivan (August 2, 1956 – December 22, 2012)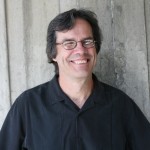 Mark was a founding member of PercOrchestra in 2000, and performed with us on every program through 2011 when he retired due to health reasons.
BIOGRAPHY (updated 2010)
Mark Sullivan received a Bachelor of Art Education and Music Education degree from Linfield College in Oregon, Master of Art degree from Montana State University, and Master of Fine Arts in Painting degree from Washington University of St. Louis. A percussionist with the Bozeman Symphony, Intermountain Opera, Montana TheatreWorks, and Montana Ballet Orchestras, he currently teaches Art: Painting, Advanced Placement, Humanities, Design and Drawing at Bozeman High School. Performance experience includes the Portland Youth Philharmonic, Salem Wind Ensemble, Greeley Chamber Orchestra, Montana Summer Symphony, and numerous jazz ensembles and musical theatre productions.
OBITUARY (courtesy of Dokken-Nelson, 12-26-2012)
Mark was born on August 2, 1956, to Jerry and Darlene Sullivan in Livingston, Montana. He was the quiet boy amongst three gregarious sisters – Beth, Shanna, and Bridey. He was the right hand for all of his father's projects and the rock of support for his mother. Eventually, he followed in his parents' footsteps, becoming a teacher. He earned his bachelor's degree from Linfield College (McMinnville, Oregon), majoring in Art and Music Education. He took his first teaching position in Poplar, Montana. He went on to earn a Masters in Art Education from Montana State University and then taught art at Butte Central High School. In 1984, he moved to Greeley, Colorado, where he taught drawing and painting at the University of Northern Colorado's Laboratory School.
It was in Greeley that Mark welcomed his children, Brianna and Conor, into the world. Mark loved being a dad and was proud beyond words of his fiercely independent, bright, talented, and warm-hearted kids. Like his parents before him, he reveled in going to every concert, recital, soccer game, volleyball match, class performance, and graduation. He found happiness in routing for the Giants, making his famous barbeque hotdogs, carving pumpkins, and painting Christmas ornaments for family and friends – especially with his children nearby.
Mark learned from his father to play drums before he entered kindergarten. By high school, he was a member of Bozeman Senior's bands and orchestra, had been chosen to play with the Bozeman Symphony, and volunteered annually to play in the Bozeman Community Summer Band. As one of his part-time jobs, he earned money for college by playing with the local cover band, Jack Down Cats. While at Linfield he performed in many musical ensembles, including the renowned Portland Youth Symphony. Returning to Bozeman in 1992, he once again joined the Bozeman Symphony and was honored to be a founding member of the Symphony's PercOrchestra.
Mark loved music, he participated in theater and dance, but he thought of himself as an artist. Through his early education, he prolifically turned out drawings, paintings, pottery, and other artwork. Some may remember him has the driver of Herbie the art bus in Bozeman. In1992, he earned his Master of Fine Arts from Washington University (St. Louis, Missouri). His artistic medium of choice was painting. He often referred to his paintings as 'art historical.' With bold, unflinching interpretations, he considered subjects as diverse as Michelangelo's Sistine Chapel ceiling, the biblical story of Susanna, as well 'guardian angels,' 'non sequiturs,' and 'dancers.' He said of his work, "Ultimately, my paintings have tremendous meaning to me as the producer and viewer. They take on more significance the more I set aside treasured art 'myths' concerning what art is supposed to look like and be about, and let myself wander a bit."
Of all his endeavors, teaching remained Mark's true calling. He joined the faculty of Bozeman Senior High School in 1992. For a number of years, he served as the advisor of the art club, the head of the Art Department, and coordinator of the high school gallery. He was profoundly gratified to have worked with students as they completed Advanced Placement portfolios, as they explored the depth of humanistic inquiry, and as they themselves found meaning in the pursuit of creative expression.
Mark married Ann Negus in the summer of 2007. Finding his soul mate, Mark routinely said he had never experienced such happiness. He loved their talks, their travels, and their mutual passion for music. He cherished having a new family, with his revered father-in-law Milt, Mona, great sisters, Allison and Chris and their children. He was truly blessed in this marriage, more so than he would eventually know.
In the fall of 2010 and winter of 2011, Mark began struggling with memory, compulsions, and a kind of detachment that was out of character. By the summer of 2011, he was diagnosed with a rare and terminal neurological condition, frontal temporal degeneration (FTD). When school started that fall, he was no longer able to teach. Eventually this affliction left him incapacitated and in need of round-the-clock care. He died of complications related to FTD, nevertheless, still knowing and loving his wife, children, family, and friends – still wishing he could return to the classroom – still listening to music.
Mark is survived by his mother, Addie Darlene Sullivan; his wife, Ann Sullivan; and his children, Brianna and Conor Sullivan. He was preceded in death by his father Gerald Sullivan. He lives on in the memories of his sisters, Esther Beth Sullivan, Shanna Nason, and Bridey Monterossi, and their families – of whom brothers-in-law, nieces, and nephews were cherished. His beloved family extends through the many Rush aunts, uncles, and cousins on his mother's side, and the Crumbakers on his father's side.
Mark's family expresses heart-felt thanks to all of the people who extended help and compassion across the past couple of years: the staff at Bozeman High, his friends in the symphony, his network of artists, his devoted care givers, Dean Botz and Denise Rollick as well as family members and friends and all the friendly faces from Kagy Corner to Kountry Korner, from Zip Trip to Burger King and Bozeman Hot Springs, who showed him kindness while he joyfully enjoyed soaking in hot water, purchased candy bars, pie, caramels, diet Dr. Peppers, and double-stackers with special sauce.
Memorials in Mark's memory – The Bozeman Symphony, 1001 West Oak St. #201, Bozeman, MT 59715 and the Bozeman High School Art Club, 205 N. 11th Ave Bozeman, MT 59715.